Fallingwater: The Building of Frank Lloyd Wright's Masterpiece by Marc Harshman and Anna Egan Smucker 
Reviewed by Dawn Miller
In a discussion with an out-of-town visitor some time ago, several of us at the Charleston Gazette-Mail tried to convey that our readers have a strong sense of place. The visitor, having listened carefully, nodded: "I think it's safe to say you love West Virginia." The emphasis was his.
I thought of that exchange while reading Fallingwater: The Building of Frank Lloyd Wright's Masterpiece by West Virginia authors Marc Harshman and Anna Egan Smucker, who also have a love of place, and know how to appreciate it in others.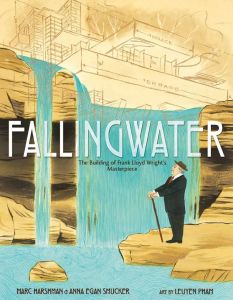 Their poetic words, and somehow moving illustrations by LeUyen Pham, tell the story of Edgar Kaufmann (as in the old Pittsburgh-based department store formerly anchoring the Charleston Town Center), who wanted to build a house at a special place, near a waterfall on Bear Run in western Pennsylvania.
"Campfires have been built on that big rock for hundreds of years," Kaufmann told Wright, a famous architect whose best years and projects were behind him, or so people believed.
For 34 dynamic pages, Harshman, Smucker and Pham make even the thinking that goes into the design of Wright's most famous house suspenseful.
"No house should ever be on a hill or on anything….," Wright wrote in his autobiography. "Hill and house should live together each the happier for the other."
Most adults coming to the book will already know that Wright builds Kaufmann's house over the water, so that the campfire rock becomes the hearth of the house. Yet it is a revelation as it emerges from drawings, rock and scaffolding.
There's a page where Wright stands out on the farthest point of the terrace, extended out over the creek.
I think of it every time I drive by the Charleston Civic Center's ongoing renovations, where an inviting bowsprit has emerged over the Elk River.
I tried the book recently in Martha Barnes' and Sarah Woody's third-grade class at Piedmont Elementary School in Charleston. Here's how it went:
"That's beautiful."
Can you imagine going to bed in a house where you could hear the waterfall in every room, I asked.
"I would go right to sleep," one girl said, and closed her eyes.
"How does it not block the waterfall?"
"How do we know that people have camped at that rock for centuries?"
I asked if anyone has a special place like this. The quick answers were big, the places of exciting family memories: Myrtle Beach. Las Vegas. China.
The slower answers were closer, and quieter: Fayette County. My grandma's front yard.
Dawn Miller, a 26-year Read Aloud West Virginia volunteer and former board president, is the Gazette opinion editor at the Charleston Gazette-Mail.